Tree Service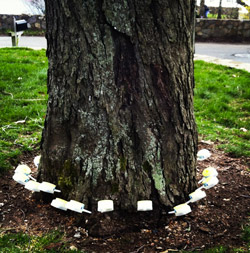 Robert Hansen Landscaping is Connecticut's leading tree service provider. We have been offering our expert services to residential and commercial property owners across the region for several decades now. Tending trees is not an easy task since it requires skills and in-depth knowledge of maintenance techniques and methods. If done by inexperienced people, the process may result in injuries and damages to properties. You can avoid these issues by getting the services of a certified tree company.
With countless satisfied clients served, we have become the most preferred tree care and maintenance company in Shelton and surrounding areas. Our deep understanding of the different tree species used in landscaping projects is another reason why most property owners hire us. Lastly, we only send well-trained and fully-equipped crews to our client's property to ensure fast, safe and efficient tree services. 
For emergency tree service or any tree-related task, please CALL US: 203-924-6933 for honest, family-owned, personal service.
We service Shelton, Trumbull, Monroe, Westport, Weston, Fairfield, Woodbridge, New Canaan, Newtown and neighboring cities in CT.
CALL US: 203-924-6933 for honest, family-owned, personal service.
Tree Service
Connecticut property owners will always get topnotch services from Robert Hansen Landscaping. For the past three decades, we haven't encountered dissatisfied clients or people complaining about the quality of our work. Every tree service is done meticulously to ensure positive results. We follow industry-approved procedures, use task-appropriate tools, and adhere to strict quality standards. We are also among the few companies in the state that can handle all types of tree-related tasks. Our premium services include tree pruning, fertilizing, pest control, replanting, and tree removal. When it comes to tree care and landscape improvement, we're the people to hire.
Pruning Oriental Trees
Ornamental trees add color, texture, and interest to a landscaped property. The most common are fruit-bearing trees, dogwood, hawthorn, birch, and hemlock. These tree species require proper care to stay robust and healthy regardless of the season. Regular tree pruning will also enhance the overall beauty of your lawn or landscape. We can prune them according to your desired shape and height to create that perfect amount of shade and not make your garden look overcrowded. Here at Robert Hansen Landscaping, we apply different pruning techniques to achieve these objectives. In addition, we use systematic procedures and specialized tools when pruning trees for our clients. Since we have experienced arborists and plant experts, every tree pruning task is done right and completed according to schedule.  
Tree Removal
Huge and overgrown trees pose safety risk to people and may damage properties if not removed from the yard. However, tree removal is not a DIY job that can be done by property owners. The job must be given to a tree service company with certified arborists. Let Robert Hansen Landscaping do the job for you. We have certified arborists who are well-experienced in removing all kinds of trees. The task is performed efficiently since we use special equipment such as boom trucks, power saws, and trimming tools. You don't have to worry about debris and other waste materials since we will take care of their proper disposal.
Tree and Shrub Planting
Most clients are picky when choosing trees and shrubs for their backyard.  If you are one of them, you need a reliable tree services firm like us at Robert Hansen Landscaping. We can help you choose the right tree species for your landscape and plant them in their perfect spots. From fruit-bearing trees to evergreens, we know their characteristics and needs. By using appropriate tools and techniques, we can easily achieve 100 percent survival rate. Get our tree and shrub planting services today and see for yourself how we handle these delicate landscape elements.
Tree and Shrub Transplanting
Do you have plantings that need to be relocated because of outdoor improvement? Are you concerned about the safety of your kids and family whenever they go to the shaded area in the backyard? Let us ease your worries by transplanting these trees to a more appropriate location. We have tree spades and other tools used for transplanting trees and shrubs, so we can work on small to large transplanting projects.
Deep Root Liquid Feeding
At Robert Hansen Landscaping, we use advanced methods to address the nutrient needs of your trees and shrubs. Among the tree care methods that we use is deep root liquid feeding, which is more effective compared to traditional ways of fertilizing. You will be guaranteed of well-nourished trees and shrubs since the liquid fertilizer is injected near the root system for better nutrient and micro-organism absorption. Your plantings will have better foliage and be more resistant to diseases and pests.
Fertilizations
Do you still apply fertilizers in a DIY manner? If you are one of the many property owners in CT who are doing this method, please think twice. Fertilization is a specialized task that is best handled by professionals like us at Robert Hansen Landscaping. The problem of most property owners is over fertilizing, which can cause massive damage to plantings. Wilting of leaves, defoliation, and slow growth are signs of over fertilization. Here at Robert Hansen, we will make sure that these things will never happen to your trees and shrubs. Our custom fertilization program is based on the specific needs of your plants. Your trees, shrubs, and other types of plantings will get their needed nutrients at the right time and interval. In most cases, we use organic fertilizers as an eco-friendly option.
Pest Control
Pests will not only ruin the beauty of your landscape but also pose health risks to your family and guests. You need to act immediately when your plantings show signs of pest infestation. Watch out for dying limbs, drying of foliage, visible fungi, and bleeding cankers. These are typically caused by defoliators, wood borers, and sap-sucking insects. Our pest control specialists will identify the type of pest infestation before implementing a specific pest control method. Infested trees will be pruned or removed from your property to protect other plantings. We also use solutions that effectively eliminate harmful pests and insects. Rest assured that we will only use industry-approved pesticides and solutions. This particular tree service is among the most sought-after services in the Shelton and surrounding areas.
Mauget Injections
Keeping your trees and shrubs healthy is our specialty here at Robert Hansen Landscaping. To achieve this goal, we use modern methods and techniques to keep your trees well-nourished and disease-free. Among the many techniques that we use is the Mauget injection. Mauget injections are a micro-tree injection technology that injects fertilizers and insecticides directly into a tree without contaminating the ground, air, soil, or water. They are regarded as eco-friendly and safe ways to apply chemicals to trees. This technology is highly effective in treating various tree diseases and pest infestation. It is also the best solution for undernourished plantings. If you want immediate results, ask us about the Mauget tree injection technology. This comprehensive tree service is highly recommended for clients who don't want a messy outdoor space.
All our tree-related services are reasonably priced and performed by well-experienced certified crews. Call us now if you're from Shelton, Monroe, Westport, Trumbull, Fairfield, Woodbridge, or nearby area. Our crews are always ready for any tree care and maintenance task.
Call us today at (203) 924-6933 to avail our comprehensive tree service package.