Residential Landscape Maintenance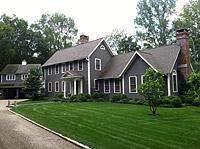 At Robert Hansen Landscaping we have been providing outstanding Residential Landscape Maintenance services to our clients for over three decades now and with great success. We take great pride in being hired to ensure that your landscapes are the envy of the entire neighborhood. Our landscape contractors have all the experience and the knowledge necessary to take care of your property through every season and keep it looking its best.
There are a wide range of services that we offer for residential lawn and landscape maintenance and we will customize a maintenance schedule that suits the needs of your particular property!
We service Shelton, Trumbull, Monroe, Westport, Weston, Fairfield, Woodbridge, New Canaan CT and neighboring cities.
Let us now discuss some of our residential landscape maintenance services:
Edging
Regardless of the kind of plantings you have on your property, you want the entire landscaping to look well put-together, and that can happen only when you ensure that the various green spaces like the planter beds, lawns and flower beds etc, have the right kind of edging.
The edging could be made of poured concrete or natural stone blocks made of travertine, bluestone, sandstone or any other stone. In some instances, we might also build these using mortar and colorful aggregates, which lends the landscaping a very unique appearance. Take a look at the benefits of installing edging on your property:
Demarcates and defines various spaces on the property
Lends a very neat & clean appearance to the landscape
Prevents the weeds and grass from encroaching upon the garden beds
Prevents the mulch & rocks in the beds from spilling over into the lawn
Reduces the amount of time taken to string trim along the edges of planter beds
CALL US: 203-924-6933 for honest, family-owned, personal service.
Annual Flowers
Many homeowners like to have colorful yards and gardens and this is where our skill as expert arborists comes into the picture. When we are handling any landscaping project, we always check with our clients about the kind of flowers they want in their garden; we plant various annuals that bloom in different seasons and this helps create drama in your landscape.
We plant colorful plants and flowers not just in the flower beds, but artistically arrange them around your driveway, entranceway & mailbox etc. We are very creative in our approach to this job and ensure that your landscape looks vibrant right round the year. We ensure that the planting is done at the right time of the year, to create a stunning effect in your landscape.
Aerating
This is a very crucial aspect of lawn care and is always included in our garden landscape maintenance plans. We have extensive knowledge about the different grass species and use technologically advanced equipment and the best techniques to aerate the turf on your property. The lawn core aeration process breaks-up the lawn to ensure that the essential soil nutrients, oxygen & the moisture reach the roots of the grass which keeps it healthier and fresh.
Professional lawn aeration helps pave the way for new grass seeds to take root, and it speeds up the germination process too. Typically, aeration may be done once annually, but if required, we may carry out this process more than that too.
Dethatching
If you have lawns on your property, you know how the small pieces and bits of grass tend to die and then they just collect above the soil; this is referred to as thatch. While a small quantity of thatch is definitely good as it becomes the source of organic manure for the soil, at times, the build of thatch is too high and the natural processes are unable to break it down at a satisfactory pace.
In fact, it becomes a barrier and doesn't permit the air and moisture from getting to the soil and roots. This is why dethatching is required. As part of the lawn maintenance plans we dethatch the grass in late spring/just after the 2nd mowing.
Pruning
Pruning and trimming are a very essential aspect of garden maintenance. As part of these services, we prune all the weak or dying branches. While this is being done, we also check the plants and trees for pest infestations; in case any are found, our landscape professionals will carefully treat and trim the affected branches. Pruning serves a very important purpose:
It helps promote new leaf growth
Improves plant quality
Increases the longevity of the plants and trees
Adds to the aesthetics of the landscaping
Transplanting
When you want your garden spaces to look stunning right round the year, you need to ensure that new plantings are added to the existing spaces. But then, when you sow any seeds, it takes a very long time for the plants to grow. That leaves the garden bare for a very long time.
It's why we transplant saplings that have grown to a certain stage. These saplings are acquired from reputed nurseries; this ensures they are of good quality and free of diseases and infestation. It gives us a head start and adds weeks to the growing season of these plants. But before this, we prepare the entire planting space by carefully amending the soil with organic manure and compost and this provides the plants with the nutrients they need.
CALL US: 203-924-6933 for honest, family-owned, personal service.
Mulch
We use mulch in our projects as there are a number of benefits to using it:
It lends a very polished & refreshed look to the landscaping
Helps cover up any problem areas in the ground, such as any dead patches that are typically found in the spaces surrounding the trees
Mulch also promotes plant health as it very effectively holds moisture and helps moderate the temperature of the soil
It also reduces weed growth
Prevents soil erosion
There are different types of mulches to choose from, and we use ones that will complement the look of your landscaping. Based on your specific preferences and needs of the landscaping, we use organic mulches including wood chips, and straw, grass clippings, Dyed Black Mulch, Double Ground Hardwood Mulch, Premium Red mulch, Certified Playground Mulch or Premium Dyed Brown Mulch.
Lawn Mowing
Most residential properties have turf installations on them. These patches of grass add to the freshness & the liveliness of the landscaping. However, the grass can remain healthy only if it is mowed on a regular basis. Depending in the type of grass on your lawns, we may mow it either on weekly or fortnightly basis.
This helps keep the grass healthy and promotes growth. Apart from this, it also helps add a highly-manicured look to the space. Apart from using powered mowers and tools, we also manually trim the grass; this is generally required near the edges of bed planters as well as near the curbing etc.
Planting Bulbs
Flowering bulbs are an extremely important addition to your landscape. However this is quite a specialized job and is much more than just bringing flower bulbs and randomly planting them on your property. We plan this planting in a very methodical manner and ensure that the right number of bulbs is brought for planting.
We also draw out plans and maintain these details for further use. The foliage of various spring-blooming bulbs tends to die by early summer. These plans provide us a record of where we have planted the bulbs, in case we need to interplant any annuals or perennials at a later stage.
Spring bulbs add a lot of vibrancy to the landscape and can be planted under deciduous shrubs/small trees in your landscape. They can also be used in combination with various smaller flowering trees such as Redbud, Crabapple and Bradford pear, to create a stubbing effect on your property.
Seeding
The lawns on your property have to be seeded regularly to keep them healthy and lush and free of bald patches. We use 3 different seeding methods while doing this:
Overseeding
This is quite a simple process. The lawn will be core-aerated and the soil will be loosened
The new seed will be scattered over the lawn
We also rake in the plugs from the aerating
Over-seeding is ideal for old lawns that have good cover
It also works very well with bunch-type grasses
Slice-Seeding
This process is slightly more complex and is ideal to fill out a weak/thin lawn or even refresh lawns that don't have too much thatch.
With this method, the grass seed is first placed into the hopper of the slice seeder
This will be run over the areas of the lawn to be seeded and it cuts straight furrows into all the grass, right through the thatch & into the soil, the seed is dropped directly where it cuts
Broadcast Seeding
This is the conventional method of planting grasses
It's simple and fast and works great for lawns where singular spacing isn't required
We rake the soil thoroughly to loosen the surface of the soil
We broadcast the seeds & cover the area two times around in different directions- this helps us achieve even coverage
We take care to use seeds of the same grass species that already exists on your lawn
The lawn will be raked and this helps the seed move right into the soil where they get the nutrition and moisture they need to grow.
Quality Garden Maintenance Services
For customized Residential Landscape Maintenance solutions, call Robert Hansen Landscaping at this number- 203-924-6933, and speak with our experts about your project details. We assure you of the best services at all times. You can also use this web form to send us any queries you may have.