Lawn Care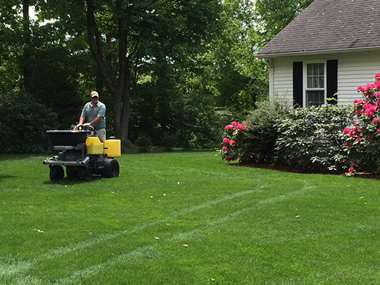 Robert Hansen Landscaping, LLC is a unique company because everything we do is based on providing the best customer service available. Our attention to detail and our commitment to education from our staff have allowed us to provide great service and create beautiful landscapes through out Connecticut for over 30 years.
Our lawn care department headed by Trevor and Aaron, have been University educated, licensed by the state, and have benefited from Carl and Bob's 30 plus years of field experience. They treat every property individually, and try tirelessly to work with each property owner to provide the quality service and results that we are known for.
A Landscaper Who Provides Perfect Service
Although we are a talented Lawn Care Company, we have found that creating a great lawn really starts with providing perfect service to our clients. We pride ourselves on returning phone calls, meeting with clients, and never letting any problem, no matter how small, slip through the cracks. We have found time and time again, that clients that begin working with us may have been happy with their lawn but were unhappy with service of their previous contractor. We never want any of our clients to feel that way.
We service Shelton, Trumbull, Monroe, Easton, Weston, Fairfield, Westport, Woodbridge, New Canaan, Newtown and neighboring cities in Connecticut.
CALL US: 203-924-6933 for honest, family-owned, personal service.
Complete Lawn Service
Our company believes in moving forward, and never sitting still. As a family owned company, we are able to take time to keep up with new products, techniques, and studies! We believe that the quality of having a full service lawn care company far exceeds what you get from a company that only cuts grass, or a national chain that only fertilizes large quantities of properties. We provide all the services required to maintain a beautiful landscape, and also have a steady stream of communication between crews to create a smooth operation.
Turf Care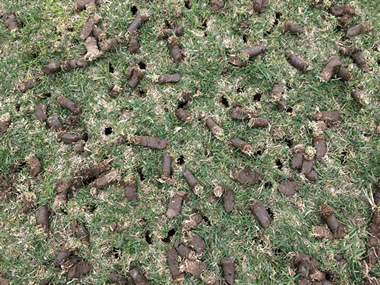 Robert Hansen Landscaping provides all aspects of turf care. There are different ways of caring for your lawn. All lawn care plans are based on a preliminary soil test and site analysis. By testing your soil, we can find any nutrient deficiencies, soil pH adjustments needed, and the level of organic matter in your soil. Knowing what is in your soil, and by learning the history of the property, allows us to prescribe the best course of action for your lawn care. Ask one of our lawn care professionals to come out and test your soil today!
Lawn, Tree and Ornamental Care
Custom lawn, tree, and ornamental care programs are created with clients, to best suit the needs of their properties and budgets. Utilizing a variety of Integrated Pest Management techniques ensures safe, effective, and environmentally responsible care. Every application is made by fully trained, educated, and licensed professionals who will be regularly monitoring the health and beauty of your turf, shrubs and trees.
CALL US: 203-924-6933 for honest, family-owned, personal service.
Some of the Lawn Services offered by Robert Hansen Landscaping:

Integrated Pest Management
Weekly Lawn Mowing
Scouting and Monitoring of Properties
Soil Testing and Analysis
Lawn and Shrub Fertilization
Crabgrass and Weed Control
Insect Suppression as needed
Lime Applications as Needed
Lawn Aeration and Overseeding
Consulting


Organic Lawn Care Programs
Weekly Lawn Mowing
Scouting and monitoring of Properties
Soil Testing and Analysis
Liquid Organic Soil Amendments
Organic Slow Release Fertilizers
Organic Pest Control Options
Turf Compost Topdressing to Increase Soil Organic Matter
Lawn Overseeding
Aerating
Consulting
CALL US: 203-924-6933 for honest, family-owned, personal service.
The Benefits of hiring a Landscaper to care for your lawn:

You will feel good about your home when you pull in your driveway and see your beautiful green lawn!


There is way more to caring for a lawn than just fertilizing. (People spend years in college learning!)


A licensed lawn care professional will use 'Best Management Practices' based on individual properties and microhabitats within each property.


Our highly trained technicians, spend a lot of time reading labels of different products, reading university research, meeting and talking with professors and other industry experts, and are always involved in continuing education! Lawn care is not only a career, but a passion for us!


We use high quality, well maintained equipment, along with accurate and consistent calibration.


Scouting! Have professionals with trained eyes monitoring your plants for potential problems.


A live person to have a conversation with about your lawn, rather than googling an answer from someone who lives on the other side of the country.


Homeowners can sometimes over fertilize and overuse dangerous pesticides without realizing it. The old saying 'some is good, but more is better' doesn't usually work with lawn care applications.


4 step programs are a cookie cutter approach to lawn care and have been proven to be outdated and often unsuccessful.


It can save money in the long term.


Education! A licensed professional should have a vast knowledge for you to take advantage of.


Saves you time and money! By the time you go out and invest in lawn care equipment and buy the fertilizers (that usually end up sitting in the garage for years) and figure out how to spread them and how much to use, you could be relaxing and watching the kids play in a beautiful lawn!


Your home is one of the biggest investments one makes in life, and improving the curb appeal through landscaping is a great way to increase the value of your property!
CALL US: 203-924-6933 for honest, family-owned, personal service.