Lawn Shrub Care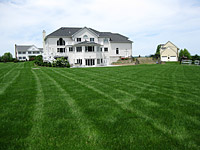 At Robert Hansen Landscaping, we offer our premium lawn and shrub services at client-friendly rates. We charge our clients reasonable rates regardless of the scope and complexity of the maintenance job. Whether you get our comprehensive maintenance program or avail a specific lawn care service, you will only spend within your set budget. This is our way of encouraging more property owners to hire local professional landscapers in CT. Professionals like us know the maintenance needs of every lawn or landscape in Connecticut. Our experts will only create and recommend programs that will address the peculiar needs of your plantings. They can easily eliminate lawn pests, rejuvenate lawns, or transform backyards into lush and beautiful landscaping. All lawn and shrub care tasks are carefully implemented to achieve positive outcomes.
CUSTOM LAWN CARE
Custom lawn, tree, and ornamental care programs are created with clients, to best suit the needs of their properties and budgets. Utilizing a variety of Integrated Pest Management techniques ensures safe, effective, and environmentally responsible care. Every application is made by fully trained, educated, and licensed professionals who will be regularly monitoring the health and beauty of your turf, shrubs and trees.

We service Shelton, Trumbull, Monroe, Westport, Weston, Fairfield, Woodbridge, New Canaan CT and neighboring cities.
CALL US: 203-924-6933 for honest, family-owned, personal service.
INTEGRATED PEST MANAGEMENT
The integrated pest management program that we offer is created by our resident landscapers with decades of experience in pest control and management, landscaping, and lawn care. The content of the program will be based on our careful assessment of the property. Whether it is a small lawn or a large landscaped property, we always use proven approaches and methods to ensure outstanding results.
Scouting and Monitoring of Properties
Before we proceed with any kind of maintenance work, we always perform onsite assessment to determine the specific needs of the property. We take note of the landscape elements, the specific plant species and their health condition, the topography of the property, and other outdoor structures. With our vast experience in landscape management and maintenance, you can surely have a spic-and-span lawn and landscape all year round.    
Crabgrass and Weed Control
Weeds will ruin the beauty of your lawn and landscape if they are not immediately controlled. It is also important to use the right weed control methods and solutions to prevent massive weed infestation. Here at Robert Hansen landscaping, we use various approaches when dealing with crabgrass and other types of weeds. Our crabgrass and weed control methods are environment-friendly and safe for people.  
Suppression as Needed
Pest infestation is one of the worst problems that you will encounter as a property owner. Getting rid of insects and pests is not an easy task so it's best to give this job to us. Our insect suppression methods are proven effective in controlling pest infestation. Moreover, the solutions and products we use are safe for people and pets.  
Lawn and Shrub Fertilization
Our fertilization program is not only about nourishing your plantings but also making them more resistant to infestation and diseases. The amount and type of fertilizer we use depends on the turf variety, current season, and soil condition. We create specific lawn and shrub fertilization programs for residential and commercial properties.   
Lime Applications as Needed
Your lawn's topsoil should be perfect for your turf and plantings. But there are cases when the soil's PH level may affect the proper growth of the plants. The turf, shrubs and trees may not grow well if they can't absorb the right amount of nutrients. The best option is to apply lime to improve your lawn's soil condition. We can assist you in proper application.
ORGANIC LAWN CARE PROGRAMS
Our organic lawn care program is highly recommended for environment-conscious clients. We use natural and organic products that won't harm the environment or pose risks to people. A lot of residential and commercial property owners in Shelton and neighboring areas prefer this option because of the program's benefits and advantages. You, too, can also avail this service by contacting us right now.
CALL US: 203-924-6933 for honest, family-owned, personal service.
Scouting and Monitoring of Properties
Achieving a nature-like backyard is not impossible if you have expert people at your side. At Robert Hansen Landscaping, we have lawn care experts who are well-experienced in maintaining residential and commercial lawns. We know how to transform a dull and boring backyard into a beautiful naturescape in your property.     
Soil Testing
Grass and other types of plantings will only grow in specific types of soil, so knowing the composition of your backyard's topsoil is vital. Does it contain the right nutrients for your plantings? Should you add soil amendments and fertilizers to make it more conducive for plant growth? You will only know these things if you will hire us today. Robert Hansen Landscaping uses specialized tools and industry-approved methods when doing soil testing on our client's property.
Liquid Organic Soil Amendments
Organic amendments are vital add-ons to your garden or lawn because they improve the soil's moisture retention, permeability, aeration, and water infiltration. Our liquid organic soil amendments are best used during fall and spring.
Organic Slow Release Fertilizers
Keeping your plantings healthy all year round is our expertise here at Robert Hansen Landscaping. You can easily have spick-and-span lawns and vibrant plantings with our organic lawn care programs. Our fertilization program, for example, is based on your plantings' needs and requirements. We also recommend and use organic slow release fertilizers, which are not only safe but also more effective in keeping your plants healthy and lush.
Turf Compost Topdressing to Increase Soil Organic Matter
Our company does not recommend synthetic fertilizers. Instead we use safer options that provide better results. We typically use turf compost topdressing to increase soil organic matter. Our turf compost topdressing comes from reliable sources, so you are assured that they are top-grade and 100 percent organic.
Lawn Overseeding
Brown patches on lawns can be easily resolved by lawn overseeding. The job is done carefully by using the right tools and techniques. We use only premium grass seeds to ensure high germination rate and optimum coverage of the affected lawn area.
Aerating
Another lawn care task that you should consider is aerating and dethatching. This is typically done once a year to encourage proper turf growth. We only use appropriate tools and methods so turf is revitalized without getting damaged.
Deep Root Liquid Feeding for Trees and Shrubs
At Robert Hansen Landscaping, we adopt various types of lawn care techniques to keep our client's plantings robust and healthy. One of the methods that we highly recommend is deep root liquid feeding for trees and shrubs. This method is typically used for disease treatment but also effective in making your trees and shrubs more resistant to pest infestations and diseases. 
We service Shelton, Trumbull, Monroe, Westport, Weston, Fairfield, Woodbridge, New Canaan CT and neighboring cities.
CALL US: 203-924-6933 for honest, family-owned, personal service.