Lawn Shrub Care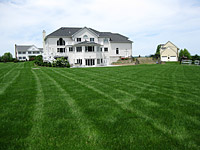 Custom lawn, tree, and ornamental care programs are created with clients, to best suit the needs of their properties and budgets. Utilizing a variety of Integrated Pest Management techniques ensures safe, effective, and environmentally responsible care. Every application is made by fully trained, educated, and licensed professionals who will be regularly monitoring the health and beauty of your turf, shrubs and trees.

We service Shelton, Trumbull, Monroe, Westport, Weston, Fairfield, Woodbridge, New Canaan CT and neighboring cities.
CALL US: 203-924-6933 for honest, family-owned, personal service.
Integrated Pest Management
Scouting and Monitoring of Properties
Crabgrass and Weed Control
Insect Suppression as needed
Lawn and Shrub Fertilization
Lime Applications as Needed
Organic Lawn Care Programs
Scouting and monitoring of Properties
Soil Testing
Liquid Organic Soil Amendments
Organic Slow Release Fertilizers
Turf Compost Topdressing to Increase Soil Organic Matter
Lawn Overseeding
Aerating
Deep Root Liquid Feeding for Trees and Shrubs