Natural Stone Walkway and Retaining Wall - Trumbull CT
This Trumbull resident had an old worn out brick walkway with a myriad of problems. The bricks were very slippery when wet and the base was failing, creating an uneven (and unsafe) surface. Some of the bricks were crumbling, and it looked old and worn out. It was time for a new, more welcoming entrance into the home.
Transplanting a Japanese Maple near a Beautiful New Walkway
The project began with some ideas the owner had. They liked certain existing plants on the property and wanted to transplant some, while highlighting others with the new walkway.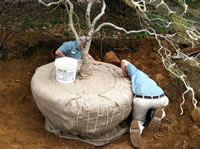 After discussing the possibilities, the wish list, and the budget of the homeowner, a beautiful design was created. The design lays out (to scale) the new landscape. It shows the new plant placement, the improved retaining wall, the specimen Japanese Maple to be transplanted and of course the layout of the new walkway and landing.
Call Robert Hansen Landscaping, LLC at 203-924-6933 today!
Using Natural Stone for a Retaining Wall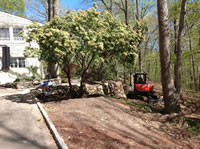 After a few small changes were made and a budget was agreed upon, work commenced. Taking care to properly dig and lace the ball on the Japanese Maple was time consuming but well worth it! We also decided to transplant a large Pieris from the back yard to the front.
Using natural stones, we rebuilt the retaining wall around the edge of the walkway to help ensure proper elevations. The wall adds quite a beautiful feature to the property as you pull up to the driveway.
Paver Pattern Using Natural Pavers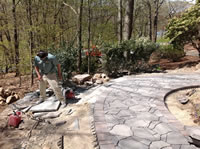 After removing the old bricks and excavating the old base, we began installing the new base to proper standards. This base will stand the test of time. Making sure to set the base to the proper elevations, we can ensure that water runs away from the door and does not puddle on the new walkway.
The owner chose a great paver pattern using natural looking pavers with an alternating sized block soldier course to line the edges of the walk and landing. The color difference does a nice job of breaking up the pattern.
Call Robert Hansen Landscaping, LLC at 203-924-6933 today!
Adding Annuals, Perennials and Shrubs
After completing the walkway and landing, next came back filling with topsoil and planting a beautiful arrangement of annuals, perennials and shrubs. This compliments the walkway without taking away from the focal point of the Cut Leaf Maple which now stands boldly at the edge of the landing.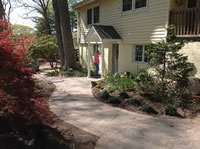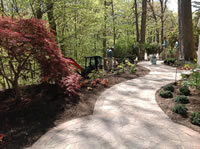 The completed walkway was a much safer and much more aesthetically pleasing walkway than what was previously there. The planting added a lot of color and the plants will flower at different times through the year!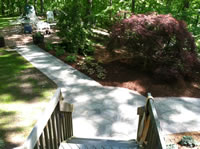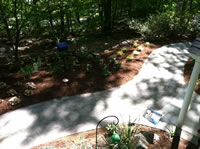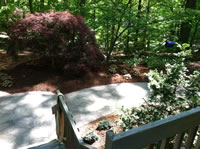 Call Robert Hansen Landscaping, LLC at 203-924-6933 today!