Commercial Landscape Maintenance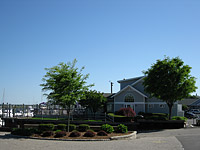 For over 35 years now, we at Robert Hansen Landscaping have been providing premium Landscape Maintenance services to our Commercial clients.
What we do is ensure that the grounds of the commercial site are well kept and always looking their best no matter what the season is. We believe that by maintaining the landscapes of a commercial business, you will also be maintaining a great first impression not only of the property but also of how you run the business. There really is nothing like a neat presentation to show clients that you are a proud and respectable business to deal with. Let us help you create that impressive impression by maintaining your commercial landscape settings.
We service Shelton, Trumbull, Monroe, Westport, Weston, Fairfield, Woodbridge, New Canaan CT and neighboring cities. Here are some of the services that we offer:
Snow Removal Services
When the snow comes down hard, it can be extremely difficult to run a business smoothly. It affects movement flow; and employees, clients, customers and visitors can find it very difficult to enter your property. This can impact your profitability too. The best way to avoid this is to hire snow management professionals for the job. We provide excellent snow removal solutions that are customized to your specific requirements. We handle snow plowing projects for various commercial establishments including:
Retail Outlets
Hotels & Restaurants
Shopping Malls
Private small business properties
Corporate Office buildings
Hospitals
Church parking lots
Government Buildings
Hotels and Restaurants
Public parking lots
Sportsplexes & Gyms
Other
Our company uses the most advanced snow removal techniques and technology in our work, such as snow pushers, commercial-grade salt and sand spreaders, snow shoveling machines, quad-axle dump trucks, heavy-duty loaders etc. In addition to these, we also use manual tools such as shovels to clear snow from very tight or difficult-to-reach spots.
CALL US: 203-924-6933 for honest, family-owned, personal service.
Sanding and Salting
A major snow storm can play havoc on your commercial property and it can become extremely inconvenient and troublesome for staff, clients and customers to get to your office/business establishment, if all the pathways and the driveway etc are covered with snow.
If you want your business to remain fully-functional even when there is a heavy snowstorm, it's important for you to ensure that the access routes to your property be clear during the winter. While we do provide snow removal solutions; we also provide excellent sanding services. Applying sand to the areas that are going to see foot and vehicular traffic provides a certain amount of traction, regardless of what the outdoor temperature is, and it prevents slipping.
In addition, it is a very effective abrasive that helps break down the ice when anyone drives or walks over it. This is one of the simplest and most effective methods of fixing icy problems. Sanding is the ideal solution during deep freeze, wet snow or ice storms.
Lawn Care
Lawn spaces add allure to your commercial property. However, after ensuring they have the right kind of soil and grasses, you also need to ensure these installations are maintained well. That's the only way they would continue to be healthy and look great. We provide custom turf care packages and ensure that your lawn gets the kind of attention it needs:
Mowing – This is a very essential aspect of any lawn care program. The grass will be mowed regularly to ensure it stays healthy and looks well-manicured.
Fertilizing – Grass needs the right amount of nutrition and that means the soil has to be fertilized regularly. This helps keep the grass healthy and green and it is able to fight diseases in a much better way.
Liming – In addition to the fertilizers, it's important that the soil shouldn't be too acidic; it should have the right pH level as this ensures the grass will grow well. We carry out liming of the soil to help maintain a balanced pH level.
Weed Control – Weeds harm the grass as they absorb all the nutrients from the soil and this hampers lawn growth. It's why we provide pre-emergent & post-emergent weed control treatments at various times of the year; this helps ensure your lawn is weed-free and healthy.
Landscape Maintenance
While it's important that a landscape be installed well and that the materials and plantings be chosen with care, it's very important that there be a proper garden maintenance plan in place to ensure the outdoor spaces on your property, continue to stay looking that way.
We provide customized landscape maintenance packages that take various factors into consideration such as, Soil PH levels, Use of natural as well as artificial light, growing patterns, watering systems as well as plant rotation cycles in various semi-covered spaces.
We ensure that all the commercial landscape maintenance solutions we provide are in line with your requirements and that all the softscaping and hardscaping features are maintained well. The latest gardening tools and high grade materials will be used in the work and we provide the highest quality services at the most cost-effective price points.
Commercial Landscaping
The gardens and other outdoor spaces on your commercial property add to its beauty. However, it's important that the landscaping be designed well as this will help increase the functionality and value of the space.
When the landscape is well planned and installed using high grade materials and workmanship, it helps ensure that all the features and elements will last for a long time. In addition to that, well planned and well maintained outdoor spaces, add to the resale value of your home. We provide outstanding commercial landscaping services that also cover comprehensive maintenance of these areas.
Border maintenance
Mowing & weeding
Shrubs, hedge & plant pruning
Grass cutting
Fine turf maintenance
Seeding & aerating
Power raking & dethatching
Hand pruning
Fertilization & Pest control
Irrigation evaluation & repairs
Mulching
Lighting management
In addition to these, we also provide new planting consultation as well as annual flower planting, arboriculture, tree trimming, flower bedding displays, seasonal cleanups etc.
CALL US: 203-924-6933 for honest, family-owned, personal service.
Patio Install and Repair
Patios are an excellent addition to a property, even a commercial one. As a matter of fact, many commercial buildings have vast patio areas that may be used as casual lounging and relaxation zones. Restaurants and hotels also tend to have outdoor spaces where they have their outdoor restaurant space.
Regardless of where you need the patio built, and what the scale of the project is, we at Robert Hansen Landscaping can provide excellent patio installation and repair solutions. In most instances, property owners prefer to get pavers installed in these areas; you can choose from natural stone, brick or concrete and will find there are literally hundreds of materials to choose from. Most property owners choose this same material for their walkways too.
While these paving stones are very sturdy and long lasting, there are times when a sudden or severe impact may damage these elements. We also provide excellent paver repair solutions and will quickly and efficiently remove the damaged units and replace them with new ones that match the appearance of ones used in the rest of the installation. We also realign the edging and curbing in case that has got disturbed in any way. This helps maintain the integrity of the walkway or paver installations.
Storm Cleanup
The weather bureau is always on the lookout for any severe climatic changes, and broadcasts that information to the public; however, when a storm hits the area, it brings a lot of devastation in its wake. Even a low-intensity storm tends to wreck the landscaping. As a commercial property owner, you want to be sure that your property looks presentable within the shortest possible time after a storm hits the area. We provide excellent storm cleanup solutions.
These are entirely customized to your requirement, based on the work that has to be done. On board our team is extremely dedicated, well-trained and skilled personnel that have years of experience in this space. We deploy them to your location soon after you call us; they will handle the job in an expert manner once you approve the quote we provide.
We understand exactly how important it is for you to ensure that all the outdoor spaces are clear of leaves, broken branches, fallen trees and other debris too. Our priority is to get your property back to normal within the shortest possible time. The various storm cleanup services we provide are:
Stump removal
Corrective tree pruning for various damaged trees
Tree-staking & bracing
Leaf & debris removal
Replanting & re-sodding
Tree replanting
Walkway & retaining wall repair
Others
Commercial Landscape Maintenance Experts
We are a highly customer-centric company and provide expert advice and tailor-made services that help manage all your Commercial Landscape Maintenance needs. As a family-owned business, we are focused on adopting an honest, transparent and personalized approach to every project we take up. No matter how big or small the job, we ensure you receive the highest grade services at the most reasonable landscape maintenance cost.
Call Robert Hansen Landscaping at this number- 203-924-6933, and speak with our experts about your project details. We assure you of the best services at all times. You can also use this web form to send us any queries you may have.