Landscape Installation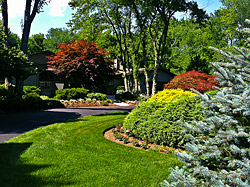 Installing custom-designed landscapes is one of our specialties here at Robert Hansen Landscaping. We use our decades of industry experience and formal training to create one-of-a-kind landscape settings for our clients. We can create a landscape that will highlight your desired features or adopt a certain theme that will suit your lifestyle and home's architecture. Our complete landscape installation package will not drain your pockets since it is priced reasonably. You may also hire us to perform a specific landscaping task to improve the look and appeal of your property. We can install premium quality sods, all kinds of plantings, beautiful curbs, custom-designed hardscape features, and other vital landscape elements. Robert Hansen Landscaping has been serving the landscaping needs of residential and commercial property owners in Connecticut for more than 3 decades now. From Fairfield County to New Haven and Litchfield Counties, we have a large number of clients who are now enjoying the beautiful landscapes that we have created for them. Call (203) 924-6933 today for your inquiries.
We service Shelton, Trumbull, Monroe, Westport, Weston, Fairfield, Woodbridge, New Canaan, Newtown and neighboring cities in CT. We offer great service and have great plans for our customers.
Tree and Shrub Plantings
Trees and shrubs are vital elements in any landscape installation project. They are not only used for aesthetic purposes but also for specific functions. Trees, for example, are great additions to your landscaping because they provide shade, serve as windbreakers, enhance privacy, and create a more natural outdoor environment. We always emphasize the roles of annuals and perennials in your landscaping. These plantings create the kind of ambiance that makes your landscape stunningly beautiful. They can change color every season, soften areas with hardscape features, and be used as focal features in the landscape.
Our plant experts will carefully choose the tree and shrub plantings to achieve a unique setting for your landscape. Our plantings are all sourced from trusted nurseries in the region so you are assured of the best plant varieties and species. As much as possible, we install native plantings to reduce your maintenance cost and irrigation needs. They will also thrive well since they can withstand the local climate.  
Sod Installations
Are you looking for reliable sod installers? Call us today at Robert Hansen Landscaping. Our company has been offering sod installation services to residential and commercial property owners in CT, as well as public properties and sports facilities. Our installers are well-trained in this job and equipped with the right tools. We have partnerships with local nurseries, so we can easily get your preferred grass variety. We can install Kentucky bluegrass, fine fescue, perennial ryegrass, and tall fescue. We have created hundreds of acres of beautiful lawns with our professionally done sod installations.  You can also enjoy a favorable rate when you include this task in your landscape project.
Turf Slice Seeding/Overseeding
The lawn care methods that we use will improve the look and health condition of your lawn. We can bring back your lush and green lawn with our turf slice seeding and overseeding services. The first option is a more precise method of planting grass seeds. We use a slice seeder machine to create furrows in the soil. The machine will then drop the seeds into the furrows at specified depth. Since the seeds were tucked directly into the soil, the germination rate is higher. But we don't recommend this method on lawns with too much thatch. Another effective method that can rehabilitate existing lawns is overseeding. We recommend this on worn and thin lawns or areas with bare spots. It will also make your lawn more resistant to heat and drought. We use top-quality seeds when performing these tasks. To ensure excellent results, we first conduct an ocular inspection of your lawn before we proceed. Call us to set a schedule.
CALL US: 203-924-6933 for honest, family-owned, personal service.
Bed/Garden Installations
You can have flower gardens that bloom all year round or change color every season with our help. Our landscapers can create unique but beautiful garden setups in your backyard. We will use different plant combinations to achieve your desired outdoor ambiance or color. Your landscape will look more vibrant and enticing with our carefully planned bed and garden installations. We will install them in strategic spots in your landscape using natural stones or concrete blocks. As an added service, we will make sure that the garden beds are ready for planting. We may add compost or organic mulches to improve the soil condition. 
Belgium Block Curbs Installations
Concrete curbs are popular among contractors because of their design flexibility. However, there is a better option that we highly recommend to our CT clients. We prefer Belgium blocks for curbing/edging projects because of their natural appeal and unquestionable durability. Belgium blocks are typically made from granite so they will surely enhance the beauty of your lawn or landscaping. We can use this material as a focal feature in your landscape by using it in garden areas and lawns. It can also be installed along driveways or used as the primary material for driveway construction. With the numerous Belgium block curbs installations that we have completed for property owners, we can assure you that your new curb will not only look appealing but also a virtually maintenance-free landscape feature. 
Bluestone/Flagstone Walkways
At Robert Hansen Landscaping, we create extra-ordinary walkways that are also durable and long-lasting. Since it is always included in our landscape installation services, our crews are now highly skilled in designing and installing walkways. Bluestone and flagstone are our preferred materials because of their natural beauty, durability, and design flexibility. These stone types can transform a simple walkway into an interesting feature in your landscape. Our bluestone and flagstone walkways do not require expensive maintenance since natural stones are inherently tough. Your walkways will not crack or settle since the stones can handle harsh outdoor environment such as freeze-thaw cycles and extreme heat. These stones have slip-resistant qualities, so you can have an enjoyable and safe leisurely walk in the landscape. Lastly, we only get our bluestone and flagstones from trusted quarries in the region. 
Concrete Paver Installations
Hardscape features are always included in all types of landscape installations. The landscape will not be complete without these permanent but vital concrete structures. Most of the hardscapes that we build are made from concrete pavers. These materials are popular options for outdoor areas because they are easy to install, low-maintenance materials, and available in different colors, shapes, sizes, and patterns. Paver manufacturers have excellent paver design collections so it is now easy to find the perfect pavers that will match with the architectural design of your home or commercial property.
Why Choose Robert Hansen Landscaping
There are many concrete paver installers in Connecticut but why choose Robert Hansen Landscaping for your project? Our answer is simple. We're composed of expert paver installers with decades of experience in the landscaping industry. Our installation crews are ICPI certified so you are assured that they will use the right paver installation methods and techniques. Most of our concrete paver installations include paver patios, pool decks, driveways, walkways, entryways, and outdoor living amenities.
CALL NOW (203) 924-6933 for immediate service or to set up a plan of action.
Gravel Driveways
There are certain types of driveways that are best built using gravel. It is a cost-effective option compared to other driveway materials. There are some issues about gravel driveways but with proper site preparation and skilled contractors, you can have a nice-looking driveway that can last for years. At Robert Hansen Landscaping, we ensure the reliability of your driveway by following the right installation methods and procedures. The area is properly graded, soil is compacted, and appropriate base materials are used. We utilize specialized tools and heavy equipment when working on a gravel driveway project. Call us today if you prefer this or want to discuss this as an option.
Drainage Installations
Storm water runoff can damage landscape elements and other vital structures in your property. Flooding and water seeping in your basement are some of the common problems that you will encounter. You can avoid these scenarios if you have a well-designed drainage system. Here at Robert Hansen Landscaping, we can design and build a reliable drainage system in your property. We may recommend a surface or subsurface drainage, depending on your needs. Another good option is to use French drains on lawns and landscaped areas. If you want to check the kind of drainage that we can install, ask some of our clients in Mt Juliet and nearby areas about the quality of our drainage installation. We charge reasonable rates for all kinds of drainage installations and other landscape installation services that we offer. Call us today.
Please dial (203) 924-6933 now for immediate service or to set up a plan of action. Our people are always ready to be dispatched to our client's location 27/4.