Snow Plowing and Removal
Snow Plowing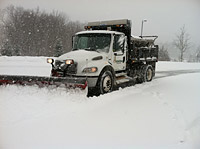 Just like most property owners, you may not like the long winter season in Connecticut. This would mean long hours of snow shoveling to prevent snow buildup in your property. If neglected, snow buildup will cause costly damages on your landscaping and other property amenities. Snow removal is a debilitating job. In fact, a lot of injuries and slip-and-fall accidents at home are attributed to snow clean-up. You can avoid these burdensome and risky tasks by hiring professionals like us at Robert Hansen Landscaping. Our company offers comprehensive snow and ice management services to residential and commercial clients in CT. Our service areas include the counties of New Haven, Fairfield, and Litchfield. Our ability to efficiently handle each snow-related task is one of the reasons why we are the preferred service provider in these aras. If you haven't tried our snow plowing services, please call us today or visit us at our Shelton office. 
We service Shelton, Trumbull, Monroe, Westport, Weston, Fairfield, Woodbridge, New Canaan, Newtown and neighboring cities in CT. We offer great service and have great plans for our customers.
Commercial Parking Lots
Commercial parking lot owners should ensure the safety of their patrons by keeping the parking area snow-free. We know that snow and ice build-up can hamper your business operation and even cause accidents. Don't let these things happen by hiring professionals like us at Robert Hansen Landscaping. We own and maintain various tools and equipment so every snow removal task is performed efficiently and promptly. Our de-icing solutions are guaranteed eco-friendly. We don't use products that can harm pets and plantings or cause damage on pavement and vehicles. We charge reasonable fees on all our services so don't hesitate to get our comprehensive snow plowing services.
Office Buildings
Snow storms and heavy snow build up can affect your normal business operation. You will be forced to temporarily close shop and reduce business production. You don't have to wait for the worst case scenario since there a lot of expert people in CT who can help you with your concerns. At Robert Hansen Landscaping, we will create a snow removal plan that will limit the effects of snow on your business premises. We cater to the needs of retail establishments, local shops, medical clinics, and other office buildings in the primary areas that we serve. Our focus is to clear your property of snow in the fastest time possible. We also take note of certain areas that require immediate attention such as your rooftop, walkways, entryways, façade, and landscaped areas. 
Snow Removal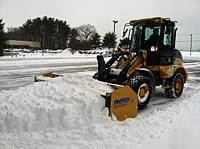 Robert Hansen Landscaping offers professional snow removal services to residential and commercial clients in the state. Our complete line of tools and equipment ensure high efficiency in our job. We also have enough crews so we can serve several customers at the same time. When you hire us, we'll only send people who are well-experienced in snow and ice management. They will work systematically to ensure the success of our snow clearing job. All important outdoor features and vital utilities will be identified before we proceed with the job. We have different types of snow plowing equipment so we can work on small and large outdoor areas. Our inventory of heavy duty equipment includes front-end loaders, pushers, snow plows, and skid steer loaders. We also have snow blowers, salt spreaders and other de-icing equipment. You won't regret hiring us for your snow removal needs. 
Sanding
Sanding is another method that we use when removing snow from our client's property. We typically use sand on driveways, pathways and private roadways since it is inexpensive, environment friendly, and known to provide good traction for vehicles. Snow and ice in your property will melt faster because of the sand's heat-absorbing capability. We also use appropriate techniques to improve the effectiveness of our de-icing materials. We can always complete the job on agreed schedule because of our complete resources – from sanding trucks to heavy duty snow plowing equipment.
Magic Salt
As a professional landscaper, we know that ordinary deicing materials can cause extensive damage on pets, paved surfaces and landscape elements. This scenario can be totally avoided by using modern and eco-friendly deicing solutions. One of our highly recommended deicing products is the Magic Salt. It is an effective deicing product that is not only time saving but also friendly to the environment.
There are other great reasons why Magic Salt is the preferred deicing solution of professional snow removal companies. This product can effectively melt up to 2 inches of ice without using shovel or snow plows. It will still work at -35F temperature compared to ordinary salt which is only effective at +18F. This kind of salt won't damage steel-made doors and equipment, carpets, concrete floors and vertical structures, paver amenities, and plantings. We also use Magic Salt as a pre-treatment solution on pavers and concrete surfaces.
Walkway Shoveling
Even if we have a complete inventory of heavy duty equipment, we still use manual methods to ensure the compete removal of snow in your property. The use of shovel and other hand tools will also prevent costly damages on your outdoor features and amenities. There are also some areas in your home or business premises that are inaccessible to large snow removal equipment. One typical example is the walkway. Snow buildup on this area should be immediately addressed since it can hamper your day to day activities. Get in touch with us if you need more people to clear this particular area. Our walkway shoveling service is affordable and performed by well-trained crews. We use our decades of industry experience to achieve outstanding results. For faster results, we typically apply industry-approved deicing solutions. With us, your paver or brick walkways will be cleared of snow or ice in no time. No worries about damages on the paver or brick surface since our personnel use the right methods and techniques when doing this job. And did we mention that we have ICPI certified personnel? This means that we know how to take good care of your paver walkways, whether its summer or winter.
Please dial (203) 924-6933 now for immediate service or to set up a plan of action.
Our people are always ready to be dispatched to our client's location 27/4. They are fully equipped with appropriate snow plowing tools and equipment so the job is completed promptly and efficiently.